When the leaves start to change and cold winds blow, warm comfort food is the way to go. Soup is a low-calorie, satisfying answer to the warmth that is craved during the fall and winter months. This recipe isn't the average bowl of tomato soup: instead it's guaranteed to tickle the palate of gourmet foodies and regular folks alike. This recipe is for one, so just multiply it if serving multiple hungry tummies. Prep to table time is about 15 minutes.
Video Overview
What you'll need:
-1 can or package of tomato soup, variations encouraged (my fave is Trader Joe's Organic Roasted Red Pepper and Tomato soup)
-1 Italian roll, sliced or 2 slices of miche bread
-1 Tbsp. of melted butter, stirred with a dash of garlic powder
-1oz Fontina cheese, thinly sliced
-1 slice Provolone cheese
-1 Tbsp. fresh Parmesan cheese, finely shredded
-3 fresh Basil leaves, chopped
-Salt and pepper to taste
Grab a saucepan or Panini pan and heat it to medium-low on the stove. Toss the butter into a coffee mug or microwave safe small dish and heat for 30 seconds, remove, add garlic powder and stir. While the pan heats, spread the garlic butter mixture onto one side of both pieces of bread. Place the bread in the pan, butter side up. After 1 minute, flip the bread and add the cheeses to one of the warmed sides without butter (leaving a teaspoon or 2 of Parm to sprinkle on the soup). Close the sandwich, lower the heat a tad, and flip the sandwich every 2 minutes until cheese is completely melted. If using a Panini pan, press the sandwich a couple of times on each side. Once the sandwich is golden and melty, remove from heat and set aside on a plate.
On the stovetop in a small pot or in the microwave in a bowl, heat a cup or two of soup (depends on the size of your appetite). Heat it on medium and slowly stir so that the soup does not boil or burn. If using a microwave, heat for 2 minutes on power level 8, stir, heat another minute, stir. Once heated thoroughly, remove the bowl from microwave or pour soup from the pot into a bowl. Add salt and pepper to taste. Garnish with the rest of the Parmesan and chopped basil.
Now that the grilled cheese has had time to cool, cut the sandwich into cubes. Lightly place the sandwich cubes atop the bowl of soup. Voila! The comforting and hearty tomato soup with grilled cheese croutons is ready to eat. Serve and enjoy.
This meal is also complimented by a bold glass of Cabernet Sauvignon, Chianti or pint of Stella Artois and small Caprese salad.
While this is super simple and easy,  we do have an instant version of our  Tomato Soup recipe from Campbell's!
Summary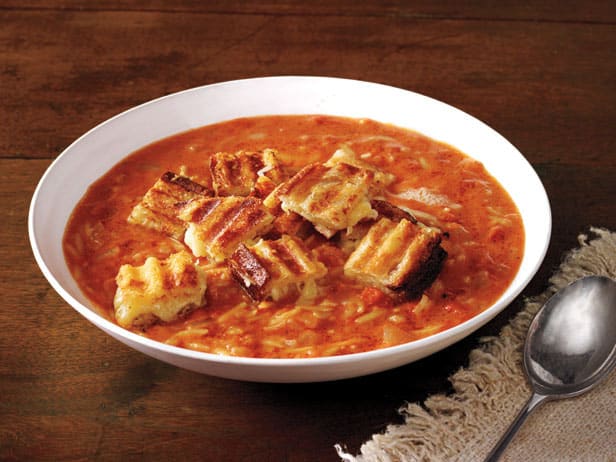 Recipe Name
Tomato Soup with Grilled Cheese Croutons
Published On