Grilled Steak or Chicken Fajitas
    One night, I had no idea what to make for dinner (so what's new). I opened the refrigerator door and closed it at least 10 times hoping that each time I looked in it, something would magically appear.  It did not.  😉   I'm sure you have been there too.  I finally decided to open one of the crisper drawers and alas, 2 bell peppers and an onion!  Bam, I'm making grilled fajitas!
Video Overview:
    We just happened to have some carne asada that I had just gotten from Trader Joe's (again, surprise surprise…my favorite place!).  I sliced the yellow and red bell pepper into small strips and then got through slicing the onion with only minimal tears.  I've used red onion, white onion, and yellow onion for these… but I definitely prefer red onions.  As for the type of bell peppers, I honestly think they all taste the same so I'm all for adding color to my food.
    I put my husband to work on the grill while I sautéed the bell peppers and onion and I warmed some tortillas up as well.  The kids are not huge fans of the part that makes it a fajita…so I just plop some spinach on their plates while we get all the goodies.  If I have avocados, I'll make a quick guac to add to these, or if I have sour cream we will use that as well.  If we do not have any tortillas, this is still a great dinner to throw on top of a salad.  Use salsa and sour cream as a substitute for your dressing.
Cheers to an easy peasy dinner!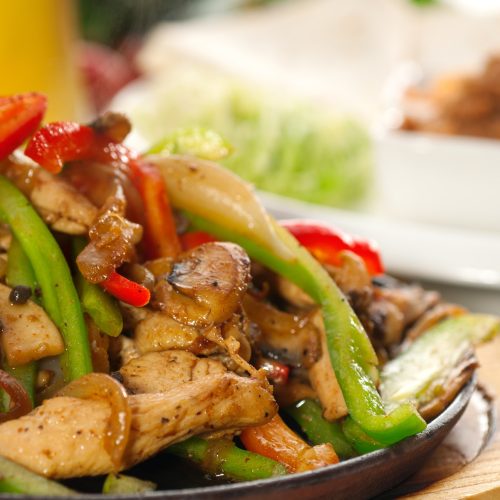 Grilled Fajitas
If you like flavorful food, this will be your go-to to spice up your dinners. Fajitas are an all time favorite and you can use any type of meat to change it up.
Ingredients
2

pounds

carne asada or chicken

whichever you are in the mood for

2

whole

bell peppers

any color

1

whole

onion

red or white

3

tbsp

taco seasoning

8-12

tortillas

corn or flour

1

cup

guacamole

or sliced avocados

1/2

cup

sour cream

1/2

cup

cilantro

2

tsp

olive oil
Instructions
Finely chop bell peppers and onion into long strips

Heat olive oil and bell peppers and onions until tender, usually 7-10 minutes

Grill steak or chicken (or both!) and chop into thin pieces

Warm tortillas, on a griddle is the best

Pile on meat and veggies and any other toppings you desire and enjoy!
Check out our website for other yummy recipes.