Video Overview
Check Out This Delicious Mango Margarita Cupcake Recipe!
What sounds better than a Mango Margarita Cupcake Recipe? I've always enjoyed cooking and baking but I hate the clean up so I don't do it nearly as often as I would like to but this recipe is worth it!
Last Christmas I was on dessert duty and I decided to do something different for the adults. I had been looking up recipes and came across this one by FromMyTinyKitchen.
I made approximately 75 cupcakes on Christmas Eve so I used frozen mangoes instead of fresh ones (mangoes are not in season at that time and it cuts down on the preparation time and cost).
When I was baking, I used a different recipe for the frosting but I wouldn't recommend it because it needs to be kept cool at all times and you can imagine how hot it was in my kitchen so it just kept running until I decided to just leave them in the fridge.
This recipe is a keeper and I can't wait to use it again! They were absolutely scrumptious and got lots of compliments even with the runny frosting.
Mango Margarita Cupcakes with Lime Whipped Topping (Yields about 18 cupcakes)
To make the Mango Margarita Cupcake Recipe follow these instructions:
1 cup flour
1 tsp baking powder
½ tsp salt
½ cup unsalted butter, room temp
¾ cup sugar
3 eggs, separated
1 Tb finely grated lime zest
2 Tb tequila
1 medium mango
Instructions for the Mango Margarita Cupcake Recipe
1. Preheat oven to 350 degrees.
2. Cream butter and sugar.
3.  Add egg yolks, one at a time, mixing well after each egg.
4. Using a zester, micro-plane or fine grater – zest lime into the batter. Add tequila.
5. Dump your flour, baking powder and salt in a bowl then slowly sift together into your egg mixture, mixing well.
6. In a separate bowl, beat egg whites with a pinch of salt until stiff but not dry then gently fold eggs into the batter.
7a. If you're going to use fresh mangoes, very carefully peel your mango using a small paring knife, dice the mangoes very finely. (This should yield about a cup)
7b. If using frozen mangoes, take them out earlier so they can thaw a bit, dice them or use a food processor as I did. (Again, about a cup worth)
8. Fold mangoes into the batter.
9. Fill cupcake liners a little over ½ full and bake for 20-25 minutes – cupcakes are very fluffy so test with a toothpick.
10. Let cool a few minutes in the pan before transferring to wire racks. ( I don't own any wire racks so I usually just set them out on the counter or something until they cool. People have been enjoying perfectly good cupcakes without wire racks for years. Don't be afraid to improvise.)
Frosting for Mango Margarita Cupcakes
2 cups whipped cream
1 lime
1. Finely zest and then juice lime – add to whipped cream. Let sit for at least 30 minutes to an hour, if not overnight in your fridge, so the lime flavor fully diffuses.
2. Top cupcakes with whipped topping right before serving.
If you try this or a variation of it, feel free to let me know how it turned out. I would love to know what you all think.
Looking for more dessert ideas? Check out our all time favorite Dessert Cookbook that we think every kitchen should have!
Summary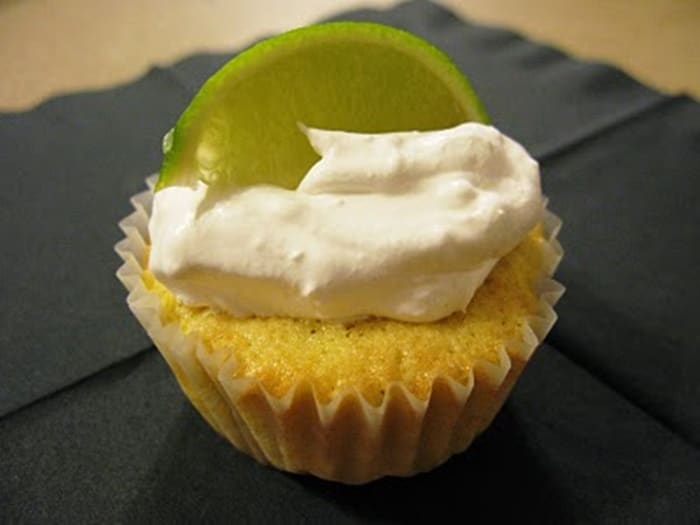 Recipe Name
Author Name
Published On
Preparation Time
Cook Time
Total Time
Rating





Based on 3 Review(s)