I was raised with bell peppers being put into a lot of my foods. Maybe it's my Caribbean upbringing but I can definitely say from experience that it adds a nice flavor and crunch to many meals.
I wasn't aware of there health benefits until recently though.
Video Overview
1. A single cup of bell peppers are only about 45 calories and in that same cup you would acquire more than your daily value of vitamins A and C.
2. Though all bell peppers have vitamin C the greatest amount is found in red bell peppers. As you probably already know, vitamin C is good for your immune system.
3. It's been proven that bell peppers can help cholesterol, pain and inflammation, and control your diabetes.
4.  Bell peppers can aid in protecting you from certain cancers because of their sulfur content.
5. Bell peppers contain vitamin E (good for youthful hair and skin), vitamin B6 (good for the nervous system), and enzymes that can protect the eyes.
Here's a healthy recipe I found…Roasted Peppers and Seasonal Vegetables
Ingredients:
1/4 cup olive oil
1 garlic clove, crushed
1 large red bell pepper, seeded, cut in eighths
1 large green bell pepper, seeded, cut in eighths
1 large yellow bell pepper, seeded, cut in eighths
2 small yellow summer squash, cut in eighths
2 green zucchini, sliced in eighths
1 onion, peeled, cut in eighths
salt and fresh ground black pepper to taste
1 tbsp rice vinegar, or sherry vinegar
2 fresh thyme springs, leaves picked
1 fresh rosemary spring, leaves picked
Preparation:
In a small saucepan, warm the oil and garlic over low heat, until the garlic begins to bubble. Turn off the heat and allow to sit for 30 minutes to infuse the oil.
Preheat oven to 450 degreesAdd the remaining ingredients to a large glass baking dish, and strain over the garlic oil. Toss to coat. Roast for 15 minutes in preheated oven. Remove and toss the vegetables. Put back in and roast for another 15 minutes, or until the vegetable are tender and the edges are browned.
~Alancia M
Summary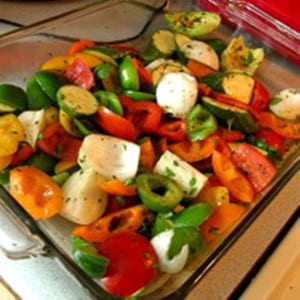 Recipe Name
Roasted Peppers and Seasonal Vegetables
Author Name
Published On