Beet and Apple SaladBeets…let's be honest, they are probably very high on the least thought of/most hated vegetables list people subconsciously keep in their minds.
Truth is however, they have quite the array of of health benefits.
Video Overview
1. Beets are low in calories and have absolutely ZERO trans fat and ZERO saturated fat which means they can sate your hunger AND you won't feel guilty. They also tend to be on  the sweeter side so you can get a guilt-free fix for your sweet tooth. 

2. Beets naturally fuel the body with energy since they have so many carbohydrates.
3. Beets are jam packed with minerals and vitamins…I mean, sodium, magnesium, calcium, iron, phosphorous, vitamin A, vitamin C, niacin and they are also considered a fiber food. You really can't get any better than that.
4. Plenty of studies have proven that beets can protect you against heart disease and cancer.
5. There are many people who take folic acid as a herbal supplement. It is especially important for pregnant women and people going through a physical healing process since it is a major part of both the production and maintenance of  new cells.
6. Beets have been known to cleanse the blood and the colon as well as strengthen the gallbladder and liver.
7. Doctors sometimes use beets to help those with blood diseases, leukemia and even get rid of tumors with something called Beet Therapy.
8. There are people who use beets to treat and cure abscesses, acne, and boils. I'm not sure how it's done exactly but I would assume it's done topically instead of by ingestion.
I tried to find recipes with the least amount of cooking to keep the nutrients as pure as possible so here's a salad and a juice.
Beet and Apple Salad
Ingredients
2 Apples – sliced thin
4 Celery Stalks – sliced thin with leaves
1 Shallot – minced
1 Lemon – juiced
1 Beet – peeled then sliced into matchsticks
1 tsp sugar
3 tbsp chopped walnuts
3 tbsp olive oil
Toss all into a bowl and salt and pepper to taste. Let stand 10 minutes, then serve on a bed of sliced endive.
Pineapple Beet Treat (Juice)
2 beets
1/2 a cucumber
1 cup of pineapple flesh
Beet Cleanse Juice
2 beets
3 carrots
1/2 an apple
1/2 a cucumber
2 celery stalks
1″ slice of ginger
~Alancia M
Summary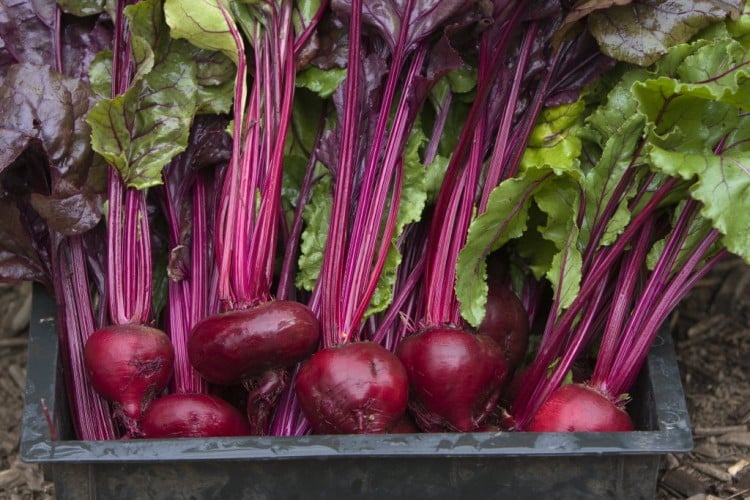 Recipe Name
Author Name
Published On