Fills the tummies of 4 to 5 people.
Our Vegan Breakfas Tofu Rancheros are the perfect meal for vegetarians, vegans, and even meat eaters! This delicious meal will have the family asking for seconds and possibly thirds! It is an awesome way to start your Taco Tuesday and is a staple in our house one to two times a week! Vegan tofu rancheros will be a family favorite and a great addition to your vegan Mexican recipe stash!
Video Overview
The total time for this meal is 30-40 minutes, prep to plate.
See the ingredients below to make the vegan tofu rancheros scrambled tofu:
1 tsp of olive oil
½ med. yellow onion, diced
1 14-ounce  block extra firm tofu
2 tbsp vegetable broth (more if needed)
1 tsp black salt
1 tsp ground cumin
½ tsp paprika
¼ tsp ground turmeric
3 tbsp nutritional yeast
1 tbsp lemon juice
Black pepper to taste
Next, here are the ingredients for the rancheros:
(Use your favorite brand of vegan products for the ingredients below!)
About 8-10 corn tortillas
Vegetarian Refried Beans  
Chunky salsa
Fresh cilantro, chopped
Avocado, sliced and sprinkle with pepper
Cabbage or lettuce, shredded
Radishes, sliced
Green onions, chopped
Lime wedges
Instructions for the Vegan Breakfast Tofu Rancheros!
1. Instructions for the scrambled tofu: Use a large skillet to heat your olive oil over medium heat. Add your sliced onion and sauté them for 3 to 4 min. Break up the tofu into the pan (as it cooks, it will start to look like scrambled eggs-ish!). Cook, stirring softly. Cook until your tofu is no longer releasing water and is starting to have a "cooked look," about 10-15 minutes. While that's cooking, combine your veggie broth, paprika, black pepper, cumin, and turmeric in a small bowl.
2. Once the tofu has cooked, add the broth mixture from your bowl. Cook for about 5 minutes more, until all of the liquid is absorbed. If it all begins to stick to your skillet, add another tbsp. of broth to help release from the pan and then also reduce the heat. Add your nutritional yeast and lemon juice and continue cooking for approximately 1 more minute. Remove your "scrambled eggs" from the heat. Cover the skillet to keep it warm while you prepare the rest of the meal.
3. To make the vegan breakfast tofu rancheros, start by heating a small pan over medium heat. Place one tortilla in your small pan and cook for about 1 min., flip it over, and then cook for about 30 seconds more. Move your tortilla to a plate and then cover with foil. Continue the process with the rest of the tortillas.
4.  Spread some of your vegetarian refried beans over each tortilla. Top with tofu scramble, a little salsa, and cilantro. If desired, you can also top with avocado slices, shredded cabbage, radish slices, and green onions. Serve right away with the wedge of lime. What's even better, your leftover scrambled tofu can be kept in your fridge for 3 to 4 days.
For more vegan and vegetarian recipes, visit Got Glam and Happy Healthy Hub! You can also find more recipes like our vegan breakfast tofu rancheros here.
Summary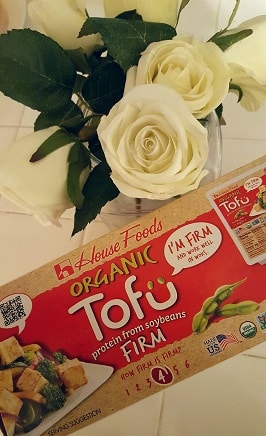 Recipe Name
Vegan Breakfast Tofu Rancheros
Author Name
Published On
Preparation Time
Cook Time
Total Time
Rating





Based on 1 Review(s)