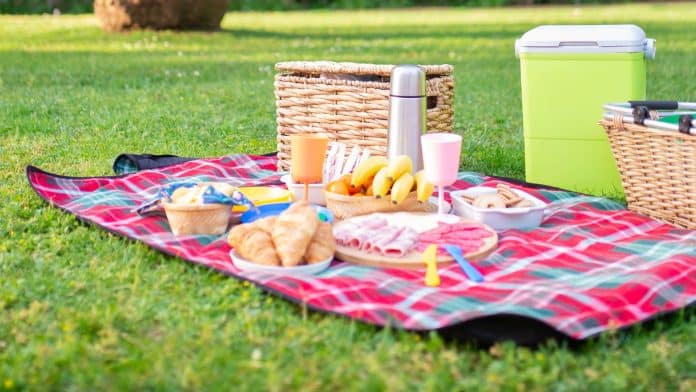 We are all tired of sitting around inside. No matter where you live or your situation, there is only so much a person can take of being shut-in before the urge hits to get out and about again.  A good way to get out and see friends and family without causing too many problems for others, is by having a picnic. When having a picnic, you don't have to go with the stereotypical picnic food  such as:
Strawberries
Grapes
Watermelon
Celery sticks
Carrot sticks
Chips
Sandwiches
Video Overview
Instead of  your typical picnic sandwich and chips you can go fancy with a bottle of wine and take out from your favorite local restaurant; or for a more relaxed feeling cook up some homemade fried chicken or pull out some cold cuts for your afternoon outdoor feast. Here are some of our favorite picnic meal ideas that you can make that are not the average/boring sandwich you are used to.
Chicken Pockets & Rice:
We will start with my favorite Chicken pockets and rice. Start by thoroughly cooking the chicken and leaving the cream cheese at room temperature. Turn on the oven to 350. Chop small piece of celery and mix the cream cheese, celery, shredded cheese, your choice of seasonings and shredded chicken. Roll out the pillsbury crescents and stuff the crescents with the chicken mixture.  Bake for 30-35 minutes, or until golden brown. Cook up some rice for the side and you will have a perfect picnic menu.
These easy 3 ingredient sausage rolls are another simple and fast option. Start with premade pillsbury dough and pre-rolled thick sausages and 1 lightly beaten egg.  Pre-heat the oven to 400.  Remove the sausage casing.  Slice the sausage length-wise so that you have two equal lengths.   Use the egg wash to lightly baste the sausage and then roll the pastries to cover the sausages.   Cut  the pastries to your desired shape and size.   Close the pastries so the sausage shows on only one side and brush with egg wash. Place the rolls sausage size up and bake for 18-25 minutes. Serve hot or cold.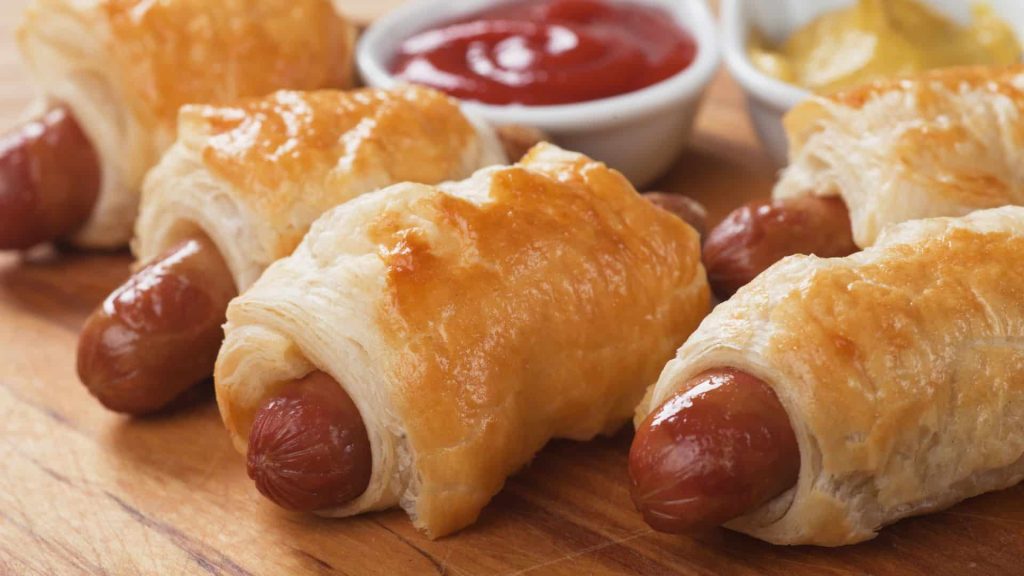 Potato Salad:
A hit at any picnic or bbq is Potato Salad – and when made correctly it can be the extra kick in the pants to your picnic.  Choose 5 potatoes, any variety and chop into small pieces.  Boil potatoes until soft (8-10 minutes).  Add a splash of  white vinegar to the boiling potatoes. Use miracle whip and two hard boiled and peeled eggs. Add in celery salt, mustard and  miracle whip or mayo and chopped green onions. Let sit at least overnight so that it can absorb the flavors.
Crumble 14 graham crackers, melt 4 TBSP of butter add 3 TBSP  of brown sugar and sprinkle with a pinch of salt. Use two fresh fruits of your choice 1-1.5 cups each. Use 2 TBSP cold water, 1/2 C of granulated sugar and 1 tsp cornflower.
Add 3/4 C heavy cream, 2 pkg cream cheese, 1 tsp vanilla extract, and 3/4 C powdered sugar. Zest 1 lemon for a little kick. Add the berries to water and bring to a boil. add sugar and cream in corn flower . Allow to thicken and then cool. This will create the top berry layer.  Pour the cream into a large bowl and whisk until thick. Add the cream cheese, vanilla and powdered sugar and whisk again until combined. The mixture should be thick enough to hold its shape.
Add to a small cup or bowl and prepare for transport.
Summary
Recipe Name
Author Name
Published On
Preparation Time
Cook Time
Total Time
Rating





Based on 1 Review(s)