Video Overview
Okay so I'm gonna try to do this in list format… Avocados can help to:
1. MAINTAIN A HEALTHY HEART
Vitamin B6 and folic acid regulate homo-cysteine levels which reduces risks of heart disease.  Vitamin E, glutathione, and monounsaturated fat, also help.
2. LOWER CHOLESTEROL LEVELS
Beta-sitosterol keeps blood cholesterol levels low. Not only does it decrease bad cholesterol levels (LDL), it increases good cholesterol levels (HDL).
3. CONTROL BLOOD PRESSURE
The potassium helps control blood pressure levels.
4. ANTI-INFLAMMATORY PROPERTIES
The polyphenols and flavonoids in avocados have anti-inflammatory properties which reduces the risk of inflammatory and degenerative disorders.
5. PROMOTE EYE HEALTH
The excellent source of carotenoid lutein is known to help protect against age-related macular degeneration and cataracts.
6. REGULATE BLOOD SUGAR LEVELS
Monounsaturated fats (the good ones) and soluble fibers can help to regulate blood sugar levels.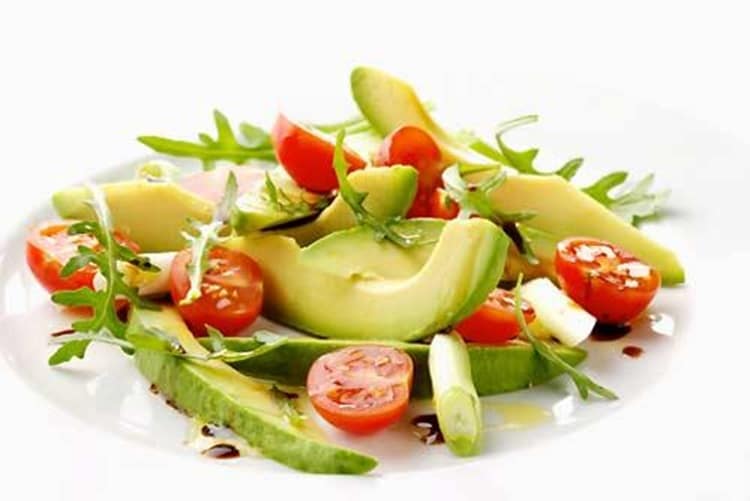 7. PREVENT BIRTH DEFECTS
The high amount of folate in avocado plays a big part in the prevention of birth defects like neural tube defect and spina bifida.
8. REDUCE STROKE RISKS
The folate can also protect against stroke.
9. PROTECT AGAINST CANCER
Avocado can affect the growth of prostate cancer while the oleic acid in it prevents breast cancer.
10. FIGHT FREE RADICALS
A powerful antioxidants called glutathione helps fight free radicals in the body.
11. ANTI-AGING PROPERTIES
The antioxidants preventing aging symptoms. The glutathione may boost immune systems, slows aging process, and encourages a healthy nervous system.
12. CURE BAD BREATH
Avocados cleanse intestine which is the real cause of coated tongue and bad breath.
13. INCREASE NUTRIENT ABSORPTION
Studies link avocado to increased nutrient absorption. The study showed that those who ate salads with avocado in them absorbed five times more carotenoids than those who ate salads without it.
14. SKIN CARE
Avocado oil has the ability to nourish the skin and make your skin glow. It also helps to treat psoriasis.
15. Weight gain
Avocado has 200 calories for every 100 grams. Fruits usually have around 60-80 calories for 100 grams. Avocado is a healthy source of calories, unlike many other calorie-dense foods that may contain excess saturated fats and sugar. So if you want to gain/maintain your weight then avocado is the way to go.
Avocado can be eaten raw and if you want the most nutrients out of it then that is the best way to consume them.
I don't have a recipe for this one but they are easy to find. I would recommend using avocados in place of mayo, adding them to your salads, eating slices of it with your dinner and so on.
~Alancia M
When it comes to avocados, you just can't go wrong. Juicing, smoothies, salads, snacks and treats… you name it! All of them delicious!  Below are some of our favorite avocado treats!
Tostitos Avocado Salsa
Perfection Snacks Mini Tortilla Chips (to dip into your avocado salsa!)
Triscuit Avocado, Cilantro, & Lime Crackers