Crispy and Delicious Kale Chips
There was a time I was doing a clean eating challenge… I loved it! I felt great on it, my skin was clean, my liver loved me, and I was sleeping so well!! So why did I stop? That is a great question… I am still contemplating that one. Life gets hard! You want to have all of the things, eat all the food, especially the leftover mac and cheese that the kids did not eat… (my weakness!) Anyway, there were some really good recipes, and I do try to get salsa's without sugar in them (surprisingly hard!) or spaghetti sauces (seriously… sugar?! Why?). One snack that stood out, and that my 2 boys still ask for are kale chips! They loved them! I don't know if it was the saltiness or the crispiness, but they were a huge hit and never stayed around for more than a day..which is a good thing because next day kale chips tend to get a little soggy…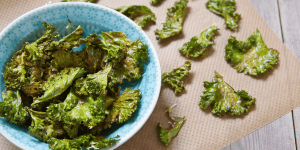 To make kale chips, I found that using lacinato kale (also known as Tuscan kale, or dinosaur kale) was the best for flavor but they got a little soggy.  I really liked the crunchy factor of leafy green or curly kale. This kind of kale was definitely more chip-like but can burn easily if you leave it too long.
So there you have it. Kale chips…a kid-approved, healthy snack that satisfies that salty crunch…What more could you ask for?!
Video Overview: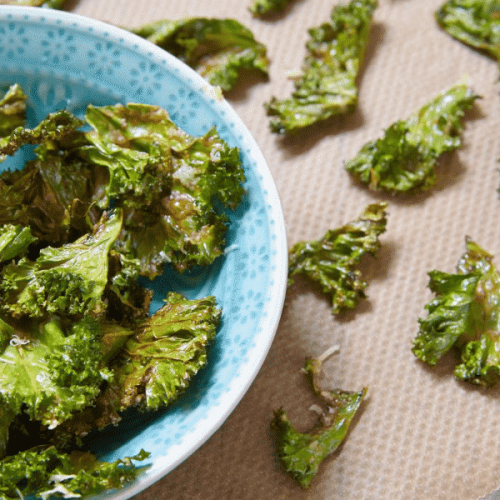 Crispy Kale Chips
A healthy, salty and crunchy snack.
Ingredients
1

bunch

green kale

or whichever kind you like

2

tbsp

olive oil

sea salt

to taste

crushed cayanne pepper

if you want a kick

parmesean cheese

if you want to cheese it up
Instructions
wash and dry kale, ensure very dry (or you will have soggy chips)

remove stems and tear leaves into 1-2 inch pieces

massage olive oil into kale, lay flat onto cookie sheet

bake for 20 minutes, flipping half way
For more healthy recipes, check out our site.