This Vegan Fruit Granola Bar Recipe makes 12 bars!
The kid's will love this Vegan Fruit Granola Bar Recipe as a great after school snack! The prep time for this meal is only 5 min. and the cook time is 10 minutes of active cook time and 80 minutes of inactive time (so plan ahead!).
Video Overview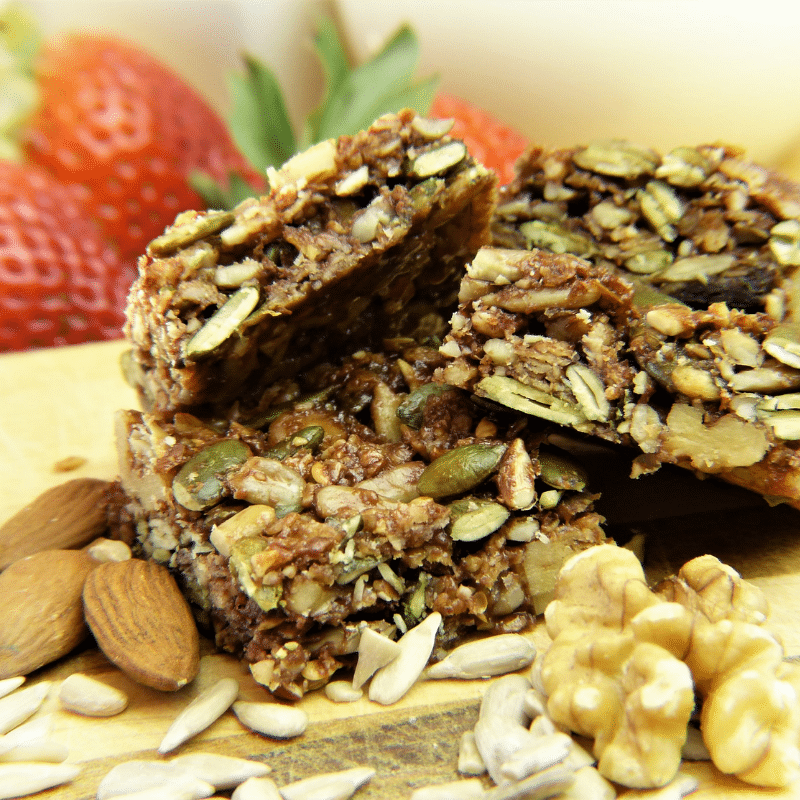 Ingredients below to make the Vegan Fruit Granola Bar Recipe:  
1 cup of Medjool dates, pitted
½ of a cup of almond butter
¼ of a cup and then 2 tbsp. of apple juice
¼ of a cup of melted coconut oil
1 tsp. of pure vanilla extract
½ tsp. of salt
2½ cups of gluten free rolled oats
¾ cups of chopped dried fruit (Get creative! Use raisins, cherries, apricots, apples, peach, blueberries, and/or mango.)
½ of a cup of chopped nuts (Get creative and pick your favorites!)
½ cup of sunflower seeds (Also tastes great with pumpkin seeds!)
Instructions below to make the Vegan Fruit Granola Bars:  
Start by preheating your oven to 300°F. Then, use parchment paper to line a 9×13 inch baking dish.
Mix together the dates, almond butter, juice, melted oil, pure vanilla extract, and salt in your food processor and mix until just about smooth and set aside.
Then use a large bowl to stir together the gluten free oats, dried fruit, nuts, and seeds. Add in the date mix and stir together until well combined. Pour the mixture into the lined baking dish and flatten it by using a non-stick spatula.
Bake in the oven for 20 min., or just until lightly golden and remove from the oven. Let the bars cool down completely before transferring to the refrigerator and let them chill for at least an hour.
Take the bars out of the refrigerator. Lift the granola bars out of the dish by the parchment paper. Lastly, slice your bars into 12 bars. The bars will be good for up to 7 to 10 days.
Enjoy!
Summary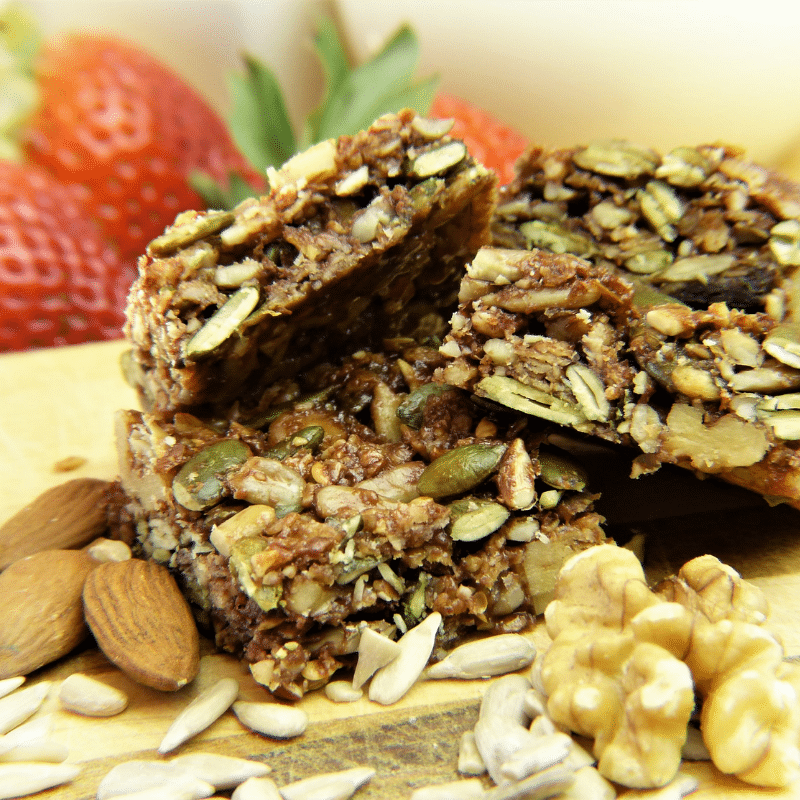 Recipe Name
Vegan Fruit Granola Bar Recipe
Author Name
Published On
Preparation Time
Cook Time
Total Time
Rating





Based on 3 Review(s)