Vegan chicken pot pie is a clever and compassionate twist on the classic comfort food favorite. Instead of traditional chicken, this plant-based version features a flavorful and protein-rich substitute such as tofu, tempeh, or seitan, which mimics the texture and taste of chicken while aligning with vegan dietary choices.
The heartwarming dish consists of a medley of vegetables, like carrots, peas, and potatoes, enveloped in a savory, dairy-free sauce. This rich filling is then encased in a flaky, golden-brown vegan pie crust, resulting in a satisfying and visually appealing meal.
What's particularly delightful about vegan chicken pot pie is its ability to capture the essence of comfort food while maintaining ethical and sustainable values. Whether enjoyed as a cozy dinner on a cold evening or served to impress friends and family, this plant-based twist on a classic offers a delicious, hearty, and cruelty-free alternative that demonstrates the creative possibilities of vegan cuisine.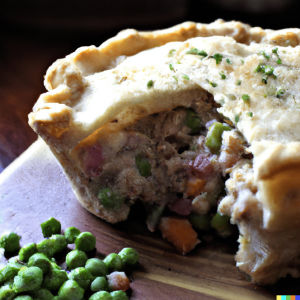 Vegan Chicken Pot Pie
This Vegan Chicken Pot Pie is a comforting classic with a plant-based twist. It's a savory, hearty dish filled with a creamy vegetable and "chicken" filling, all enclosed in a flaky, golden-brown pie crust.
Ingredients
For the Filling
2

cups

vegan chicken substitute, cubed

seitan, tofu, or tempeh

1

cup

carrots, diced

1

cup

peas

1

cup

potatoes, diced

1/2

cup

onion, finely chopped

1/4

cup

vegan butter or margarine

2

cups

vegetable broth

1

cup

unsweetened plant-based milk

almond, soy, or oat

2

cloves

garlic, minced

1

tsp

dried thyme

Salt and pepper to taste
For the Pie Crust
2

store-bought vegan pie crusts

ensure they are vegan friendly

1

tbsp

plant-based milk

for brushing
Instructions
Preheat your oven to 375°F (190°C).

In a large skillet, melt the vegan butter over medium heat. Add the chopped onion and garlic, and sauté until they become translucent, about 3-4 minutes.

Stir in the flour to create a roux. Cook for 2-3 minutes, stirring constantly, until the roux begins to turn a light golden color.

Slowly whisk in the vegetable broth and plant-based milk, ensuring there are no lumps. Continue to cook and stir until the mixture thickens, about 5-7 minutes.

Add the diced vegan chicken substitute, carrots, peas, potatoes, dried thyme, salt, and pepper to the skillet. Stir well to combine. Simmer for 10-15 minutes, or until the vegetables are tender and the mixture has thickened to a creamy consistency. Remove from heat.

Roll out one of the pie crusts and place it in the bottom of a pie dish.

Pour the vegan chicken and vegetable filling into the pie crust.

Roll out the second pie crust and place it on top of the filling. Trim any excess dough and crimp the edges to seal the pie.

Cut a few slits in the top crust to allow steam to escape. Brush the top crust with plant-based milk to achieve a golden-brown finish.

Place the pie dish on a baking sheet (to catch any spills) and bake in the preheated oven for 30-35 minutes, or until the crust is golden brown and the filling is bubbling.

Let the Vegan Chicken Pot Pie cool for a few minutes before serving. Slice and enjoy!
This comforting vegan pot pie will surely become a family favorite. Serve it up on a chilly evening for a satisfying and delicious meal.