Vegan meatballs are a delicious and cruelty-free alternative to traditional meat-based meatballs. They are crafted from plant-based ingredients, providing a satisfying and flavorful experience for those who follow a vegan or vegetarian diet or anyone seeking a healthier, more sustainable option.
The base for vegan meatballs varies but often includes ingredients like cooked lentils, chickpeas, tofu, tempeh, or a combination of grains and legumes like quinoa and black beans. These ingredients are typically mixed with seasonings such as garlic, onions, herbs, and spices to create a savory and well-rounded flavor profile.
To bind the mixture together, vegan meatballs often rely on flax or chia seeds, breadcrumbs made from gluten-free or whole-grain options, or even nutritional yeast for added depth. These ingredients ensure that the meatballs hold their shape and have a satisfying texture.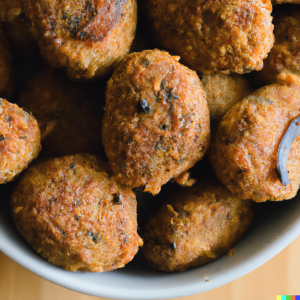 Vegan Italian Meatballs
These vegan Italian meatballs are a flavorful and satisfying alternative to traditional meatballs. Made with a combination of plant-based ingredients, including lentils, mushrooms, and breadcrumbs, they are rich in taste and have a hearty texture.
Ingredients
1

cup

dried green or brown lentils

2 1/2

cups

vegetable broth

1

cup

finely chopped mushrooms

cremini or button mushrooms work well

1/2

cup

finely chopped onion

3

cloves

garlic, minced

1 1/2

cups

breadcrumbs

use gluten-free breadcrumbs if needed

1/4

cup

nutritional yeast

optional, for added flavor

2

tbsp

tomato paste

2

tsp

Italian seasoning

1

tsp

dried basil

1

tsp

dried oregano

Salt and pepper to taste

Olive oil for frying

optional
Instructions
Rinse the lentils thoroughly and place them in a medium-sized pot with the vegetable broth. Bring to a boil, then reduce the heat to a simmer. Cover and cook for about 25-30 minutes, or until the lentils are tender but not mushy. Drain any excess liquid.

While the lentils are cooking, heat a bit of olive oil (or use water for sautéing to keep it oil-free) in a skillet over medium heat. Add the chopped mushrooms, onions, and minced garlic. Sauté for 5-7 minutes, or until the vegetables are soft and the moisture from the mushrooms has evaporated. Remove from heat and let cool.

In a food processor, combine the cooked lentils, sautéed mushroom mixture, breadcrumbs, nutritional yeast (if using), tomato paste, Italian seasoning, dried basil, dried oregano, salt, and black pepper. Pulse until everything is well combined and forms a dough-like consistency.

Preheat your oven to 375°F (190°C) and line a baking sheet with parchment paper.

With your hands, form the mixture into golf ball-sized meatballs and place them on the prepared baking sheet.

If you prefer a slightly crispy exterior, lightly brush the meatballs with olive oil. Otherwise, you can omit this step for an oil-free version.

Bake the meatballs in the preheated oven for 20-25 minutes, or until they are firm and slightly browned on the outside.

Serve the vegan Italian meatballs with your favorite marinara sauce and pasta, or use them in sandwiches, wraps, or as an appetizer.
Vegan meatballs can be baked, pan-fried, or simmered in sauces, and they can be served with pasta, as a sandwich filling, on a pizza, or alongside vegetables. They offer a guilt-free, compassionate, and eco-friendly alternative to traditional meatballs, making them a popular choice for those who want to enjoy the classic flavors of meatballs without the use of animal products.