Indulging in vegan fish tacos is a delightful culinary experience that captures the essence of coastal dining without any harm to marine life. These tacos are a testament to the creativity and versatility of plant-based cuisine. The joy begins with the first bite, as you savor the crispy, golden-brown texture of the "fish" – typically made from ingredients like tofu, tempeh, or heart of palm, cleverly seasoned and battered to mimic the taste and flakiness of traditional fish.
The joy of eating vegan fish tacos continues as you discover the harmonious blend of flavors and textures in each bite. Fresh, crunchy cabbage slaw adds a refreshing crunch, while zesty vegan tartar sauce or creamy avocado crema provides a cool and creamy contrast to the crispy "fish." The medley of flavors is often elevated with a squeeze of lime, a sprinkle of fresh cilantro, or a dash of hot sauce, creating a symphony of taste that awakens your taste buds.
Moreover, there's a sense of satisfaction in knowing that your meal is not only delicious but also environmentally friendly and cruelty-free. By choosing vegan fish tacos, you're making a conscious choice to protect our oceans and marine ecosystems while savoring a dish that's both compassionate and incredibly tasty. It's a culinary journey that proves that plant-based eating can be a joyful celebration of flavors, textures, and values.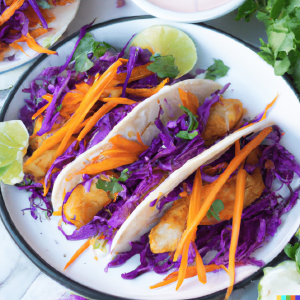 Vegan Fish Tacos
These vegan fish tacos are a delightful twist on the classic fish taco recipe, offering all the flavors and textures you love without harming our aquatic friends.
Ingredients
For the Vegan "Fish" Fillets
1

pkg

vegan fish fillets

such as tempeh, tofu, or plant-based fish alternatives

1

cup

all-purpose flour

1

tsp

garlic powder

1

tsp

paprika

1/2

tsp

salt

1/2

tsp

black pepper

1

cup

plant-based milk

vegetable oil for frying
For the Slaw
2

cups

shredded cabbage

green or purple

1/2

cup

shredded carrots

1/4

cup

chopped fresh cilantro

2

tbsp

vegan mayonnaise

1

tbsp

lime juice

salt and pepper to taste
For Assembling
8

small flour or corn tortillas

sliced avocado

optional

lime wedges

hot sauce or sriracha

optional
Instructions
Prepare the slaw by mixing the shredded cabbage, shredded carrots, chopped cilantro, vegan mayonnaise, lime juice, salt, and pepper in a bowl. Toss everything together until the slaw is well coated. Set it aside in the refrigerator to chill while you prepare the "fish."

In a shallow bowl, whisk together the flour, garlic powder, paprika, salt, and black pepper. In another bowl, pour the plant-based milk.

Heat a generous amount of vegetable oil in a skillet or frying pan over medium-high heat. You'll want enough oil to submerge the "fish" fillets.

Dip each vegan fish fillet into the plant-based milk, allowing any excess to drip off, and then coat it in the flour mixture, pressing lightly to adhere to the batter. Carefully place the battered fillets into the hot oil and fry until they are golden brown and crispy, about 3-4 minutes per side. Transfer the cooked fillets to a paper towel-lined plate to remove excess oil.

Warm the tortillas in a dry skillet or microwave them according to the package instructions.

To assemble the tacos, place a spoonful of the slaw on each tortilla, followed by a vegan "fish" fillet. Add avocado slices if desired, and squeeze fresh lime juice over the top. Drizzle with hot sauce if you like it spicy.

Serve the vegan fish tacos immediately, with extra lime wedges and hot sauce on the side for those who want an extra kick.
These vegan fish tacos are a quick and satisfying meal that captures the essence of traditional fish tacos in a cruelty-free way. Enjoy the crispy, flavorful goodness with family and friends!