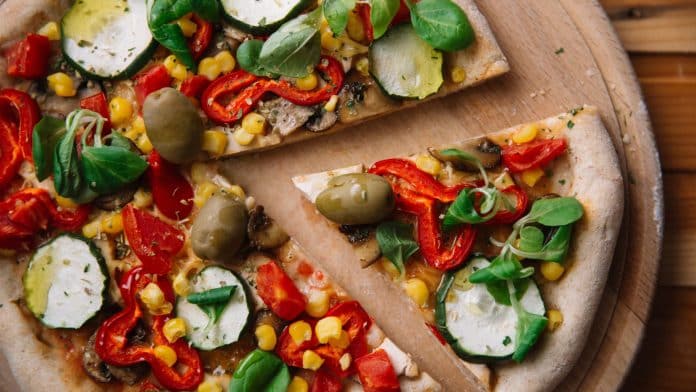 Everyone loves a good pizza! The melted cheese, in combination with the crust and tomato sauce, is an irresistible flavor for anyone. This vegan pizza is a delicious and healthy alternative to traditional pizza. Enjoy fresh vegetables and vegan mozzarella cheese in this savory and satisfying dish that everyone will love. Plus, it's a great way to incorporate more plant-based foods into your diet. So next time you're in the mood for pizza, try making this vegan version instead!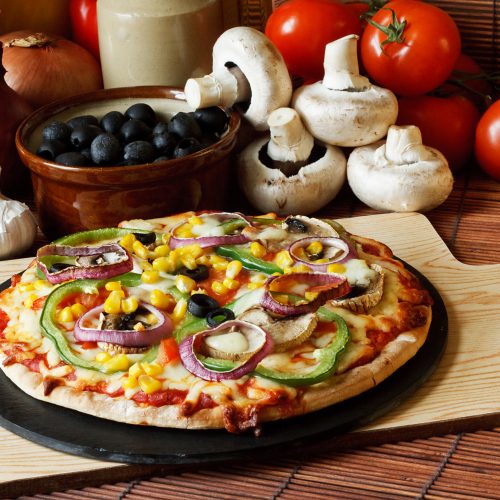 Vegan Pizza
Easy and quick to make delicious vegan pizza! Enjoy the combination of flavors that are sure to satisfy your pizza cravings.
Ingredients
1 pre-made pizza crust

1/2 cup tomato sauce

1/4 cup sliced black olives

1/4 cup sliced mushrooms

1/4 cup diced green bell pepper

1/4 cup diced red onion

1/2 cup vegan mozarella cheese

1 tbsp olive oil

1 tsp dried basil

salt and pepper to taste
Instructions
Preheat your oven to 425°F (218°C).

Place your pre-made pizza crust on a baking sheet or pizza stone.

Spread the tomato sauce evenly over the pizza crust.

Add the sliced black olives, sliced mushrooms, diced green bell pepper, and diced red onion to the pizza.

Sprinkle the vegan mozzarella cheese on top of the vegetables.

Drizzle olive oil over the top of the pizza, and sprinkle with dried basil, salt, and pepper.

Bake the pizza in the oven for 12-15 minutes, or until the crust is golden brown and the cheese is melted.

Remove the pizza from the oven and let it cool for a few minutes before slicing and serving.
You can always add more cheese to your recipe or even double it to feed more people! This makes the perfect potluck dish for a gathering also!
Summary
Recipe Name
Author Name
Published On
Preparation Time
Cook Time
Total Time