Enchiladas are a classic Mexican dish that typically include meat, cheese, and a rich tomato-based sauce. However, this vegan enchiladas version swaps out the traditional ingredients for delicious plant-based options that are just as flavorful and satisfying.
The recipe starts with a flavorful filling made from cooked black beans, brown rice, sautéed bell peppers, onions, and garlic, and a blend of spices like chili powder, ground cumin, and smoked paprika. The filling is then spooned onto corn tortillas and rolled tightly, creating individual enchiladas.
Next, a rich enchilada sauce is poured over the top of the enchiladas, and vegan shredded cheese is sprinkled on top for extra flavor and creaminess. The enchiladas are then baked in the oven until the cheese is melted and bubbly, creating a delicious and satisfying meal.
This vegan enchilada recipe is perfect for anyone who loves Mexican cuisine and is looking for a healthier, plant-based option. It's packed with protein and nutrients, and the flavorful spices and sauce make it a crowd-pleasing favorite. Serve it up with some fresh cilantro and your favorite toppings like avocado, salsa, or guacamole for a complete and delicious meal.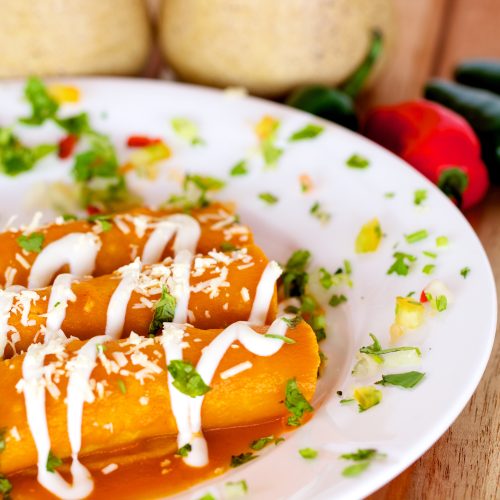 Vegan Enchiladas
This recipe will take approximately 45 minutes to prepare and cook and serves 4-6 people. These vegan enchiladas are packed with protein and flavor and are perfect for a healthy and delicious weeknight dinner. Enjoy!
Ingredients
12 corn tortillas

2 cups black beans

1 cup brown rice

1 red bell pepper

1 green bell pepper

1 small onion

2 cloves of garlic

1 tbsp of chili powder

1 tsp of ground cumin

1.2 tsp of smoked paprika

salt and pepper to taste

2 cups of enchilada sauce

1/2 cup vegan shredded cheese

fresh cilantro
Instructions
Preheat the oven to 375°F.

In a large skillet, sauté the red and green bell peppers, onion, and garlic over medium heat for 5-7 minutes until they are tender.

Add the cooked black beans, brown rice, chili powder, cumin, smoked paprika, salt, and pepper to the skillet, stirring until well combined. Cook for an additional 5 minutes until heated through.

Spread a thin layer of enchilada sauce on the bottom of a 9x13 inch baking dish.

Warm the corn tortillas in the microwave or on a skillet until they are pliable.

Spoon the black bean and rice mixture onto the center of each tortilla and roll tightly, placing them seam-side down in the baking dish.

Pour the remaining enchilada sauce over the top of the enchiladas, making sure to cover each one completely.

Sprinkle vegan shredded cheese on top of the enchiladas.

Cover the baking dish with foil and bake for 20-25 minutes.

Remove the foil and continue baking for an additional 10 minutes or until the cheese is melted and bubbly.

Garnish with fresh cilantro (optional).
Overall, this recipe is easy to make, takes about 45 minutes from start to finish, and serves 4-6 people. It's perfect for a weeknight dinner or for entertaining friends and family. Check out more of our vegan recipes by browsing through our site!
Summary
Recipe Name
Author Name
Published On
Preparation Time
Cook Time
Total Time