Raw Artichoke Salad with Parmesan and Mint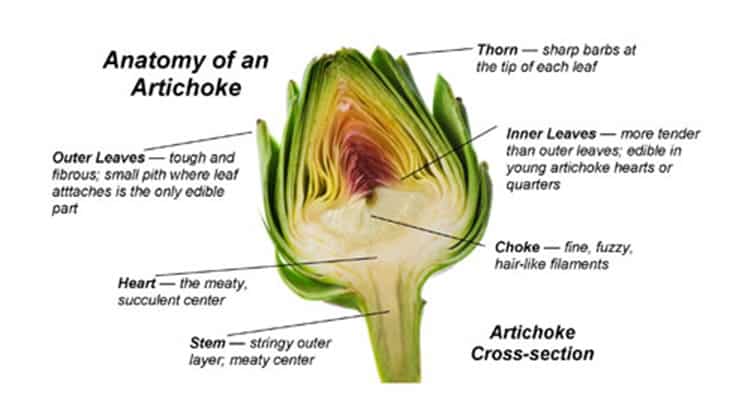 I have never eaten an artichoke…don't judge me. I hear though, the heart of them are the part people enjoy the most.
After reading up on them, I've learned that only the heart of an artichoke can be eaten raw.
The leaves, however, are actually the most nutrient packed part of an artichoke.
Even though only the heart can be eaten raw, you can cook it so that the entire vegetable can be consumed.
(I'll give a few recipes at the after I go over the health benefits.)
Video Overview
1. Artichokes are high in both antioxidants and fiber. A USDA study found that artichokes have more antioxidants than any other vegetable. Out of 1,000 different foods, they ranked seventh in a study of the antioxidant levels. In addition, one large artichoke contains a quarter of the recommended daily intake of fiber while a medium one has more fiber than a cup of prunes.
2. Artichoke leaves have been known to reduce bad cholesterol levels (LDL) and increase good cholesterol levels (HDL).
3. Artichokes aid in the prevention and treatment of cancer.  Studies on artichoke leaf extract show that they induce apoptosis (cell death) and decrease cell proliferation in cancers such as prostate cancer, leukemia, breast cancer, and some others. An Italian study found that an artichoke rich diet reduces the risk of breast cancer.
4. Artichokes are good for both the liver and digestion. The meaty part of artichoke leaves contains a polyphenol antioxidant called cynarin which increases bile flow. T he cynarin paired with the antioxidant silymarin in artichokes are very beneficial to the liver. Studies show they could actually regenerate liver tissue. Artichokes are also a natural diuretic so they aid in digestion and improve gallbladder functions.
5. Last but most definitely not least, ARTICHOKES HELP HANGOVERS! Because artichokes help the liver the way they do, people have sworn by them as hangover treatments.
Here a few recipes…
Raw Artichoke Salad with Parmesan and Mint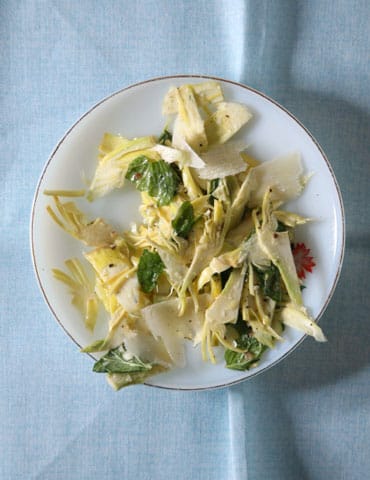 SERVES 4
INGREDIENTS
2 lbs. baby artichokes (about 20)
2 lemons, halved
4 tbsp. extra-virgin olive oil
1/2 cup baby arugula
1/4 cup torn mint leaves
Kosher salt and freshly ground black pepper, to taste
2 oz. Parmesan, shaved thin with a peeler
INSTRUCTIONS
1. Trim away tough outer leaves of the artichokes to expose their tender pale green interior. Using a serrated-blade knife, cut off the spiky top third of the artichokes. Use a vegetable peeler to remove the tough outer layers around the base and stem. Squeeze 1 lemon into a bowl filled with cold water and submerge artichokes in the water.
2. Drain artichokes and pat dry with paper towels. Using a mandoline or a chef's knife, cut the artichokes into thin slices and transfer to medium bowl. Squeeze remaining lemon and the oil over the artichokes; toss to coat. Add arugula and mint and season with salt and pepper; toss gently. Garnish salad with Parmesan shavings.
Chicken and Artichoke Fettuccine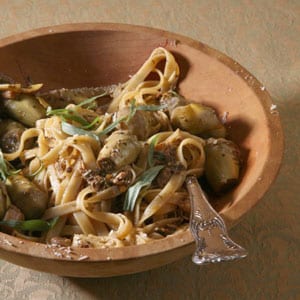 SERVES 4
INGREDIENTS
Juice of 1 lemon
15 baby artichokes (about 2 lbs.)
3 tbsp. extra-virgin olive oil
4 cloves garlic, thinly sliced
2 dried mushrooms, such as porcini,
chopped (about 1⁄8 oz.)
1 small carrot, finely chopped
Kosher salt and freshly ground black pepper,
to taste
3 boneless, skinless chicken thighs (about 1 lb.),
cut into 1″ chunks
1 tbsp. tomato paste
1⁄4 cup white wine vinegar
4 tbsp. chopped tarragon leaves
3 cups chicken broth
1 lb. dried fettuccine
3⁄4 cup grated Parmesan
INSTRUCTIONS
1. Stir lemon juice into a medium bowl filled with water. Trim away tough outer leaves of the artichokes to expose their tender, pale green interior. (For illustrated, step-by-step instructions, see Trimming Baby Artichokes.) Put trimmed artichokes into lemon water; set aside.
2. Heat the oil in a dutch oven over medium-high heat. Add the garlic, mushrooms, and carrots and cook, stirring frequently, until soft, about 8 minutes. Season the chicken with salt and pepper. Increase heat to high and add the chicken and tomato paste; cook, stirring occasionally, until chicken is lightly browned, about 6 minutes. Add the vinegar and cook, stirring constantly, until liquid has evaporated, about 1 minute. Drain the artichokes and add them, along with 2 tbsp. tarragon and the chicken broth, to the pot. Bring broth to a boil and reduce heat to medium-low. Simmer until chicken and artichokes are very tender and the broth has reduced by half, about 40 minutes. Season with salt and pepper and set sauce aside.
3. Meanwhile, bring a pot of salted water to a boil over high heat. Add pasta and cook until al dente, about 7 minutes. Reserve 1 cup pasta water. Drain pasta and transfer to pot with artichoke and chicken sauce; set over high heat. Bring sauce to a boil, stir in 1⁄2 cup Parmesan and cook, tossing occasionally with tongs, until sauce thickens and clings to pasta, about 2 minutes. (If sauce is too dry, pour in a little pasta water.) Add remaining tarragon and season with salt and pepper. Transfer pasta to 4 bowls and sprinkle with remaining Parmesan.
Steamed Artichokes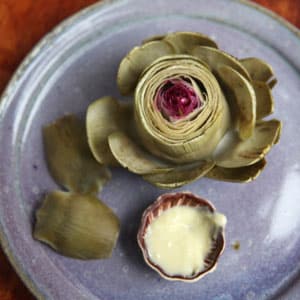 SERVES 2
INGREDIENTS
2 large artichokes
1/2 tsp. kosher salt
INSTRUCTIONS
1. Bring 1″ of water to a boil over high heat in a 4-qt. saucepan. Place a small rack or steaming basket in bottom of pot.
2. Using a serrated-blade knife, cut off the stems of the artichokes so that they sit flat. Cut off top third of artichokes. Using kitchen shears, trim the pointed tops from the leaves. Transfer artichokes to the saucepan and sprinkle with salt; cover and steam over medium-high heat until tender, about 40 minutes. Using tongs, transfer artichokes to 2 plates. Serve with drawn butter or your favorite dipping sauce, if you like.
If you have any of your own recipes, please share.
To further level up your artichoke intake, why not snack on some delicious artichoke hearts or even supplement with artichoke extract? Below are our recommendations.
POSHI Artichoke Hearts Vegetable Snack
Stonemill Kitchens, Spinach, Artichoke & Parmesan Dip
Jarrow Formulas Artichoke 500 mg – Liver Support & Digestion Dietary Supplement
~Alancia M
Summary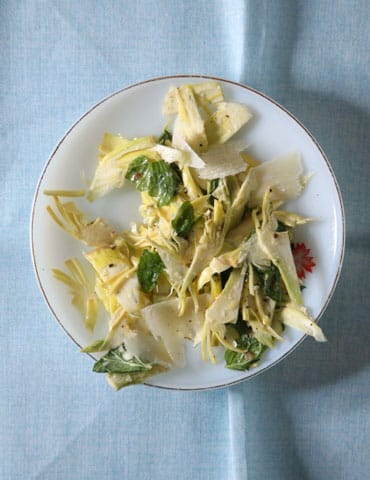 Recipe Name
Raw Artichoke Salad with Parmesan and Mint
Author Name
Published On