Fettuccine Alfredo with Sun-Dried Tomatoes and Veggies
Video Overview
So here are some things asparagus can be used for that are a bit intriguing. Asparagus can be used…
1 – AS A DETOX
Asparagus contains 288 mg of potassium – which is known for reducing belly fat – and 3 g of fiber –  which cleanses the digestive system – per cup. It has almost no sodium so no bloating during PMS, no fat or cholesterol, and only 40 calories per cup.
2 – FOR ANTI-AGING PURPOSES
Besides potassium, asparagus is rich in vitamin A, folate, and glutathione – an amino acid compound with potent antioxidant properties; a must as an anti-aging deterrent since it protects cells from toxins such as free radicals.
3 – AS AN APHRODISIAC
Asperge is the French word for asparagus which also happens to be the slang term for penis. It is said to trigger the mind to have a physiological response  because of its shape making it a psycho-physiological aphrodisiac.
4 – AGAINST CANER
Asparagus is high in folate, now known to be an important protection against cancer.
5 – TO REDUCE PAIN AND INFLAMMATION
The folate in asparagus also helps reduce inflammation.
6 – TO PREVENT OSTEOPOROSIS AND OSTEOARTHRITIS
The vitamin K in asparagus has can help prevent osteoporosis and osteoarthritis. Vitamin K helps formation and repair of bones and is for the synthesis of osteocalcin. Osteocalcin is a protein in bone tissue on which calcium crystallizes.
7 – TO REDUCE HEART DISEASE RISKS
Once again, it's the folate that has been shown to reduce the risk of heart disease.
8 – TO PREVENT BIRTH DEFECTS
As you can see, folates can do a lot for your health. Getting enough folate is even more important for women who either are, or plan to become pregnant. A folate deficiency has been linked to increased risks of Spina Bifida (a spinal cord birth defect) as well as Anencephaly (a neural tube defect). Folate also helps to regulate embryonic and fetal nerve cell formation and may aid in preventing premature births.
Okay, so when I was looking this up I got really curious about what folate actually is and where else I could find it.
Folate is naturally in leafy green vegetables, and citrus fruits. Folic acid, though said to be the same as folate, is actually the supplemental form. As usual, it's best if you get your health benefits from its original source.
Here's a recipe for you to try. Also, just as a tip, try to make sure your vegetables – when cooked – retain their crunch. If they are limp then most, if not all, of the nutrients have probably been cooked out of them.
Fettuccine Alfredo with Sun-Dried Tomatoes and Veggies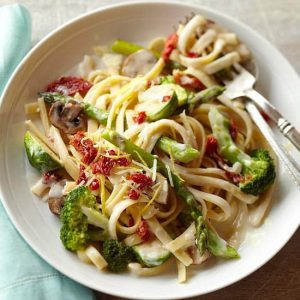 INGREDIENTS
8 ounces dried Fettuccine
1/2 cup dried tomatoes (not oil-packed), chopped
4 tablespoons butter
1 tablespoon olive oil
4 ounces fresh asparagus spears, trimmed
4 ounces fresh Brussels sprouts, trimmed and quartered
1 1/2 cups fresh broccoli florets
8 fresh mushrooms, sliced
2 tablespoons all-purpose flour
1 1/4 cups milk
1/2 cup finely shredded Parmesan cheese
1 1/4 cups milk
1/2 cup finely shredded Parmesan cheese
2 teaspoons finely shredded lemon peel
DIRECTIONS
1. Cook pasta according to package directions, adding dried tomatoes the last 2 minutes of cooking. Drain and return to saucepan; keep warm.
2. Meanwhile, in a large skillet heat 1 tablespoon of the butter and olive oil over medium heat. Add asparagus, Brussels sprouts, broccoli, and mushrooms. Cook over medium heat for 8 minutes or until vegetables are tender. Remove vegetables from skillet; set aside.
3. In same skillet melt remaining butter over medium heat. Stir in flour. Cook and stir 1 minute. Stir in milk. Cook and stir until thickened and bubbly. Stir in Parmesan cheese. Gently stir in pasta and vegetables. Stir in additional milk to reach desired consistency. Sprinkle with lemon peel and additional shredded Parmesan cheese. Makes 4 (1-1/2 cup) servings.
As usual, feel free to leave comments.
~Alancia M
Ramp up your asparagus intake with this delicious Asparagus snacks!
This Asparagus powder can also be added to smoothies, juices, and your everyday cooking!
Summary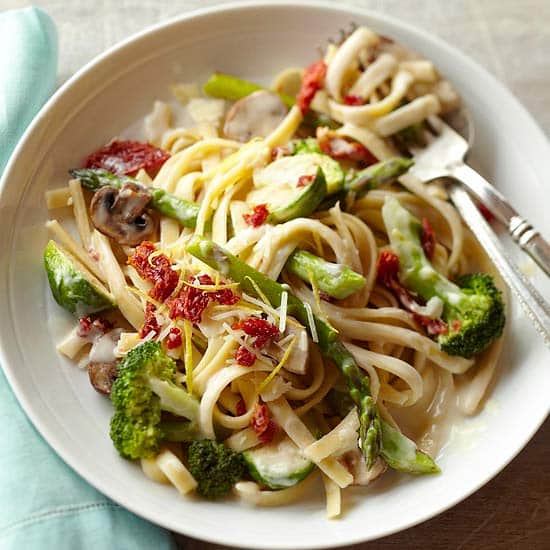 Recipe Name
Fettuccine Alfredo with Sun-Dried Tomatoes and Veggies
Author Name
Published On