Because there are so many kinds of beans and lentils, their healthy benefits range but beans as a whole are good for you.
Video Overview
Beans and lentils can…
1. Boost your enzymes
One cup of Adzuki beans contain 34% of your daily copper value. Copper is important for making both your connective tissue and skin pigment by helping the function of you enzymes.
2. Control high blood pressure
Their protein and fiber help to prevent and control hypertension.
3.  Control weight
A study by the Journal of the American College of Nutrition revealed that those who ate beans had a 22% lower chance of obesity than those who did not.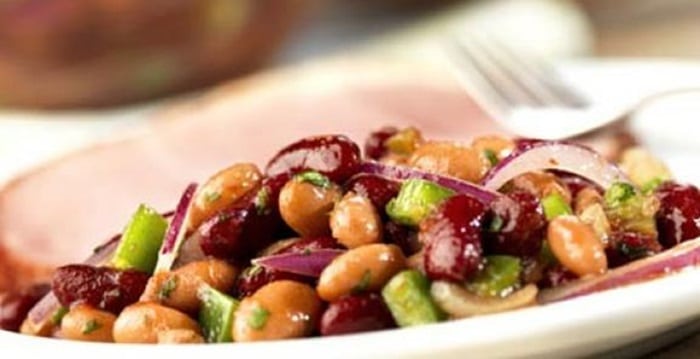 4. Increase iron intake
The vitamin C found in lentils is a great way for the body to naturally absorb more of the iron found in beans.
5. Prevent birth defects
A single cup of lentils provides 90% of your daily value of folate which is important foreveryone but eevn more so for pregnant women.
6. Reduce risks of cancer
The Harvard School of Public Health performed a study which found that women between the ages of 26 to 46 who ate beans and lentils at least two times a week were 25% less at risk for breast cancer than women who ate them only once a month.
Here is a Weight Watchers recipe I found for Lentil and Black Bean Chili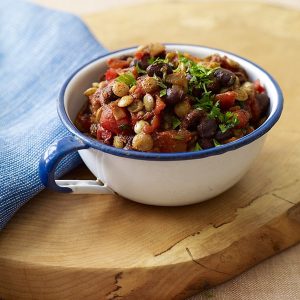 Ingredients
1 1/2 cup(s) dry lentils, French-variety, picked over for debris
1 Tbsp olive oil
1 large uncooked onion(s), diced
1 large sweet red pepper(s), diced
2 Tbsp minced garlic
3 Tbsp chili powder
2 tsp dried oregano
1 1/2 tsp ground cumin
1/2 tsp cayenne pepper
1 tsp kosher salt
29 oz canned diced tomatoes, fire-roasted with chilies, undrained
31 oz canned black beans, rinsed and drained
1/2 cup(s) cilantro, fresh, chopped
Directions
Place lentils in a large sauce pan and cover with water by several inches; bring to a boil. Reduce heat to low and simmer until lentils are tender but retain a little bite, about 10 to 15 minutes; drain well and set aside.
Meanwhile, heat oil in a large nonstick skillet over medium heat. Cook onion, pepper and garlic, stirring often, until vegetables are softened, about 10 minutes.
In a cup, combine chili powder, oregano, cumin, cayenne and salt; add to skillet and stir well to combine. Cook, stirring often, about 1 minute.
Add tomatoes and their juice, and beans to skillet; stir well to combine. Cover skillet and simmer so flavors can blend, about 5 to 10 minutes. Fold in lentils and cilantro; serve.
Yields about 8 servings at 1 cup per serving.
~Alancia M
Summary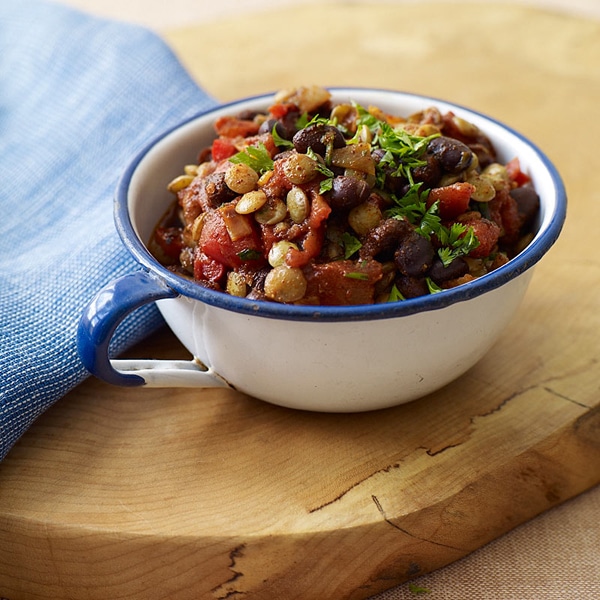 Recipe Name
Lentil and Black Bean Chili
Author Name
Published On